This article was published in Manila Bulletin on September 14, 2022.
Amazon Web Services (AWS) is committed to training 29 million people globally to grow with free cloud computing skills training by 2025, as the company believes in the importance of democratizing knowledge and giving all individuals the opportunity to build technical skills. During a media briefing last 05 September 2022 in BGC – Taguig City, AWS, together with some of its partner companies, shared how AWS re/Start equipped individuals and teams with the skills needed to leverage AWS Cloud to innovate the digital world.
"We think about educating the builders of today, that's why we have various programs focused on educating our customers. We are also thinking about enabling the builders of tomorrow and how we can think about the various talent pools out there that could support bridging these digital skills. How do we engage untapped or under-tapped talent pools?," according to Conor McNamara, Managing Director, AWS – ASEAN.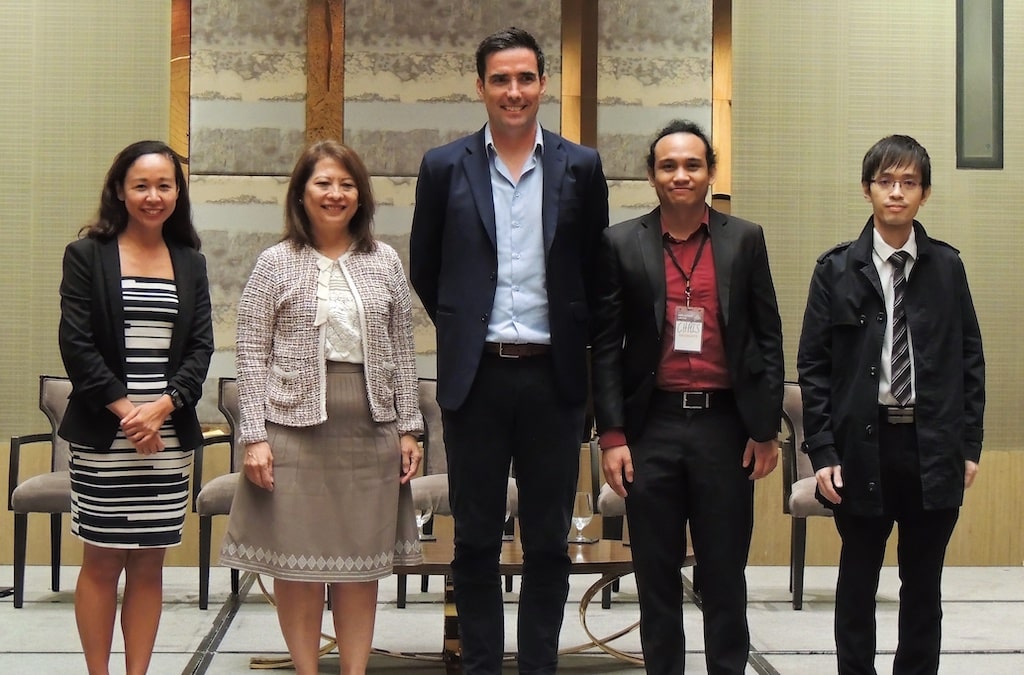 The AWS re/Start program empowers learners at all levels with training designed by AWS experts aimed at building confidence, driving transformation, and delivering results. This program will bring upskilling and employment opportunities to the local community and will cover fundamental AWS cloud skills through scenario-based learning, hands-on labs, and coursework.
Among the Philippine-based companies working with AWS on this program are Edukasyon.ph and Stratpoint, both represented at the media briefing.

Inclusive Cloud Training with Edukasyon.ph
Early this year, AWS partnered with Edukasyon.ph to launch the AWS re/Start program in the Philippines. The 12-week program is aimed at unemployed or underemployed Filipinos who have limited or no background in Information Technology (IT), but are seeking to upskill in the cloud and gain employment in cloud-related jobs. Cohorts in the Philippines are run virtually and led by an expert instructor, utilizing a mix of both live classes and supplemental on-demand videos.
AWS re/Start also covers practical career skills, such as interviewing and resume writing, to help individuals prepare for entry-level cloud roles. AWS re/Start graduates have developed both technical and soft skills that will prepare them for success in entry-level technology careers.
"We noticed that if we Filipinos would want to have access to good training and job opportunities, the usual behavior is for us to migrate to tier one cities like Metro Manila, Cebu, and Davao. This kind of program is no anymore limiting the audience just to the residents of those cities. Automatically, the opportunities are opened up to a bigger, larger population. It (AWS re/Start) opens up the gate that the best training, the best job, and the best opportunity are no longer limited to just tier one cities," said Grace David, CEO of Edukasyon.ph.

Stratpoint on Hiring the Best Talents
With the need for enterprises to digitally transform becoming more evident now compared to years ago, modern applications builder Stratpoint has always been on the lookout for individuals who are well-versed in cloud computing to help them and their clients harness the power of cloud technologies in optimizing business operations.
"One of the things that AWS re/Start addresses is that holistic approach. Aside from the technical (skills), we are also looking for communication skills. We are also looking for creative people, because we, at Stratpoint, want to create and build new things," said Mary Rose dela Cruz, CEO of Stratpoint when asked about the qualities of a cloud engineer that they would want to hire.
Dela Cruz also highlighted the CARE (Creative, Agility, Reliability, Evolution) values that her company believes, citing that as change is inevitable and technology will always be advanced, they will always be looking for those who want to learn.
Know more about the AWS re/Start program and when the next cohort will happen in the Philippines via aws.amazon.com/training/restart.